BriefingWire.com, 4/15/2015 – Green City Growers, a Somerville-based urban agriculture company, launched a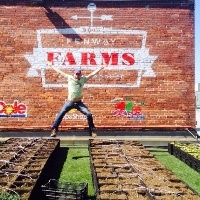 new website this week. The roll-out comes in tandem with a URL change to greencitygrowers.com and the opening of Fenway Farms, a rooftop container farm at the Red Sox's famous ballpark. There is now a designated section about Fenway Farms including pages for frequently asked questions, information about the installation, and what crops are being grown.
The re-designed website is completely mobile-friendly to accommodate an increase in web traffic from hand-held devices due to this high-profile project. The novelty of the rooftop farm at Fenway Park, and the excitement of those who observe Green City Growers farmers performing maintenance during home games or on tours of the park, necessitated a site more easily navigable from phones and other devices.
"Our goal is ease of use, for visitors to Fenway Park to have access to information about the Fenway Farms project and what the farmers are up to throughout the season at their fingertips," explains Augusta Nichols-Even, Director of Marketing and Partnerships at Green City Growers. "The most frequently asked question by fans on opening day at Fenway was 'what's growing?' The new website includes a page with the crop map for Fenway Farms, which will be updated seasonally."
Green City Growers enlisted freelance web developer Yurij Roman Lojko to design the new website and launch the new URL. Over the past five years, Lojko has developed several iterations of the Green City Growers website.
"Roman has the remarkable ability to anticipate our needs" says Nichols-Even, "and seamlessly steer our web technology in a direction that enhances our business strategy without interrupting operations. Our site looks and functions better than ever."
About Green City Growers: Green City Growers (GCG) is an urban agriculture business specializing in the installation and maintenance of raised bed gardens, rooftop farms and indoor growing systems, using only organic OMRI approved methods. GCG transforms otherwise unused space into thriving urban farms providing schools, home-owners, restaurants, businesses and communities immediate access to nutritious food, while revitalizing city landscapes and inspiring self-sufficiency through garden education programs. Green City Growers was founded by Jessie Banhazl in 2008.
---