Summer may be ending, but the fall growing season is just beginning. The days are getting shorter, and the nights are getting colder. School shopping is well underway. But urban farming is only rounding the corner into 3rd period! Use this fall crop list to help you make the most of the growing season this fall.
Fall Crop Planting Schedule
It's true that several fall crops have to be planted as early as August to reach maturity before the end of the New England growing season. With only a handful of days remaining until September 1, here's what you need to plant in the ground or raised bed right away:
Beets
Broccoli
Cabbage
Carrots
Kohlrabi
Plant Before September 10th
Broccoli Raab
Chard
Cilantro
Spinach
Plant Before September 20th
Arugula
Bok Choy
Lettuce (Head)
Lettuce (Loose)
Mesclun Mix
Pea Shoots
Radishes
Plant Before October 10th (with season extension)
Green houses, hoop houses, and season-extending cold frames make it possible to plant many crop varieties much later in the season, and even to over-winter several crops.
Beets
Carrots
Collards
Kale
Kohlrabi
Scallions
Season Extension Workshop:
Green City Growers is holding an intensive 2-hour Season Extension workshop this fall, on two dates, just before the first frost (according to Farmer's Almanac).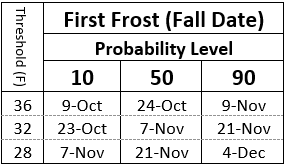 Thursday, October 2 6:30pm-8:30pm
Saturday, October 4 11am-12pm
Seating is limited! RSVP to secure your place.
---